Your Zero Waste Store
This course will teach you how to open your own zero waste store
Now only €190.00 (excl. VAT)
Undecided? We offer a 14-day satisfaction guarantee.

Are you looking for a more purposeful job or a career change? Do you want to do something good for the environment and end the madness of plastic packaging? Do you want to know how to open your own packaging-free shop?
Then this course was made for you. Step by step you will learn how to open your own packaging-free shop.
Four years ago we had the idea of opening a packaging-free supermarket. That idea became a reality when we first opened Original Unverpackt's doors in September 2014. Since then we have gathered a lot of experience and want to pass it on to you through this course.
What can you expect?
the necessary know-how for opening your own packaging-free shop
twenty course videos complete with translated English subtitles and documents (German Audio)
valuable tips on financing, shop launch and marketing
information on researching and choosing suppliers and manufacturers
an honest insight into both the advantages and challenges of running your own shop
a wide range of materials, such as a financial plan template and list of suppliers
access to a facebook group for exchange with other attendees
While this course was created to the best of our knowledge, we unfortunately can't accept any liability for the supplied information. We are trying to provide you with a kick-start into opening your own shop, but unfortunately we cannot do all the work for you, we can only give you tools! Please keep in mind that your country might has a slight different way of handling businesses and supplier relations can be different. Thankfully, we have had students from all over the world using our course to open their own shop!
Thanks for understanding.
Email us your thoughts and questions at [email protected]
Your Instructor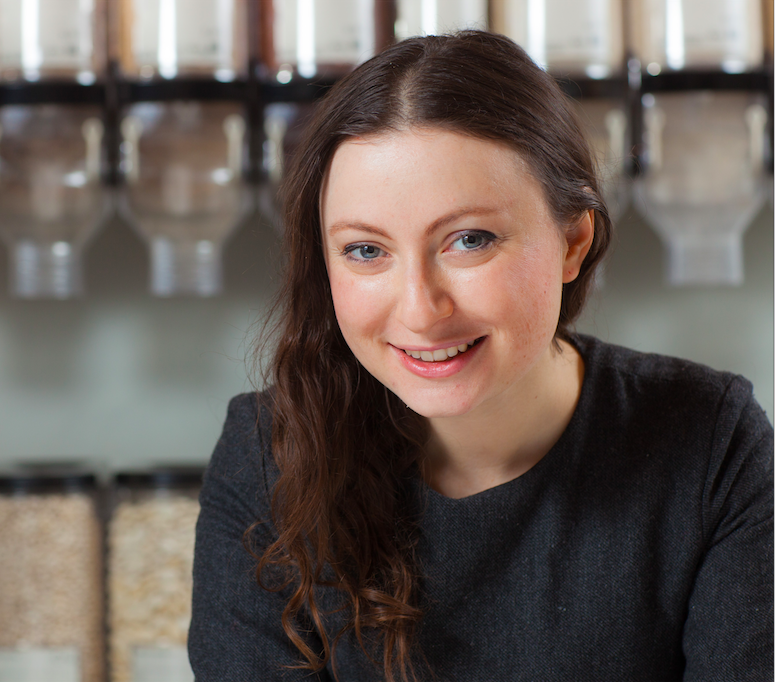 Bevor Milena Original Unverpackt gegründet hat, war sie mehrere Jahre in der Werbeindustrie tätig, als sie sich dann entschied ihre Karierre zu ändern und in den Lebensmittel-Einzelhandel einzusteigen. Als sie noch in der Marketingabteilung des Supermarktes Veganz gearbeitet hat, erkannte sie das große Problem. Welches Problem? Verpackungsmüll. Die Lösung? Ein unverpackter Supermarkt. Original Unverpackt eröffnete in 2014 seine Türen und war der erste Supermarkt seiner Art. Seit dem ist viel passiert! Milena darf sich heute mich mehreren Auszeichnungen schmücken, darunter Berliner Unternehmer des Jahres 2018/2019, Forbes 30 under 30 und Goldene Bloggerin. Neben dem ganzen Trubel hat sie 2 Büchtitel unter dem Namen "Ohne Wenn und Abfall", sowie "Einfach Familie Leben" veröffentlicht.

Before founding Original Unverpackt, Milena Glimbovski spent several years working in advertising and then she decided to change careers and dedicate herself to food retailing. Working in the Marketing department for the vegan supermarket chain Veganz allowed her to gain fresh insight to the industry and find new solutions to old problems. The old problem? Packaging waste. The solution? A packaging-free supermarket. Original Unverpackt opened its doors in 2014 and was the first of its kind in Berlin. Since then, Milena has received several awards including Berlin Entrepreneur of the Year 2018/2019, Forbes 30 under 30 and Golden Blogger. Alongside the course she has published 2 books called 'Ohne Wenn und Abfall' and 'Einfach Familie Leben'.
Course Curriculum
How to activate Subtitles / Translation
Available in Tage
Tage after you enroll
Financing
Available in Tage
Tage after you enroll
Milena has published a brand new E-Book in 2020!
"The Zero Waste Shop Revolution" is full of great insights and inspirations. Enrolled students exclusively receive a whole chapter of her book to read for free. If you want to read her book you can easily download it through our Online Shop!
Frequently Asked Questions
I don't have a lot of time –is this course right for me?
Yes. You can match the course to your own speed. Whether you only have 2 hours a week or can commit two hours a day, you can adjust the course to your own speed. You don't have to stick to fixed dates or deadlines.
I don't speak German. Can I still participate?
Yes. We've translated the course documents into English and all our video content is available with English subtitles. Simply follow the instructions to activate the subtitles at the curriculum beginning and get started.
What if I'm not satisfied with the course?
Of course we want nothing more than making our customers happy but should we fail to meet that goal we're happy to offer a 14-day return policy. Just send us an email at
[email protected]
and we will reimburse you for the entire cost of the course.
How long will I have access to the course?
Once you've signed up you get full and unlimited access to the entire course and all updates.
Why is the course so expensive?
Launching our shop in Berlin Kreuzberg was the result of two years of detailed planning and ever since then we have gained a lot of experience, which we share in this course. Therefore this course is the product of dedicated passion, but also of lots of time and experience. We also offer a money-back guarantee, which takes any financial risks off your hands.
Do you offer franchise?
No, we don't offer franchise.
What about …?
I'd rather pay via PayPal or direct transfer. Is that possible?
You're very welcome to pay via PayPal or direct transfer. Just email us at
[email protected]
and we'll provide our bank account details. As soon as we receive your payment we'll activate your account and send through your login details.